Caboolture West is Council's single biggest growth area. Over the next 40 years it is envisaged the area will become a regional city of 70,000 residents, complete with walkable neighbourhoods containing a range of housing types, employment opportunities, environmental values, community and open space facilities, and activity centres.
The significance of Caboolture West as a growth area is reflected in:
the Queensland Government's declaration of Caboolture West as a Master Planned Area in February 2012
Council's inclusion of the Caboolture West Local Plan within Council's Planning Scheme in 2016
the Queensland Government's identification of Caboolture West as a Major Expansion Area and High Priority Growth Area in Shaping SEQ South East Queensland Regional Plan 2017
the announcement by the State Government in March 2021 that Neighbourhood Development Plan No. 1 of the Caboolture West local plan as a pilot site for a future growth program in South East Queensland.
The Caboolture West local plan area is approximately 5km west of Caboolture and Morayfield, bounded by the D'Aguilar Highway to the north, Caboolture River Road to the south and low hills to the west of Old North Road.
Finding Information can be difficult so below are some key links that will continue to be updated as Caboolture West progresses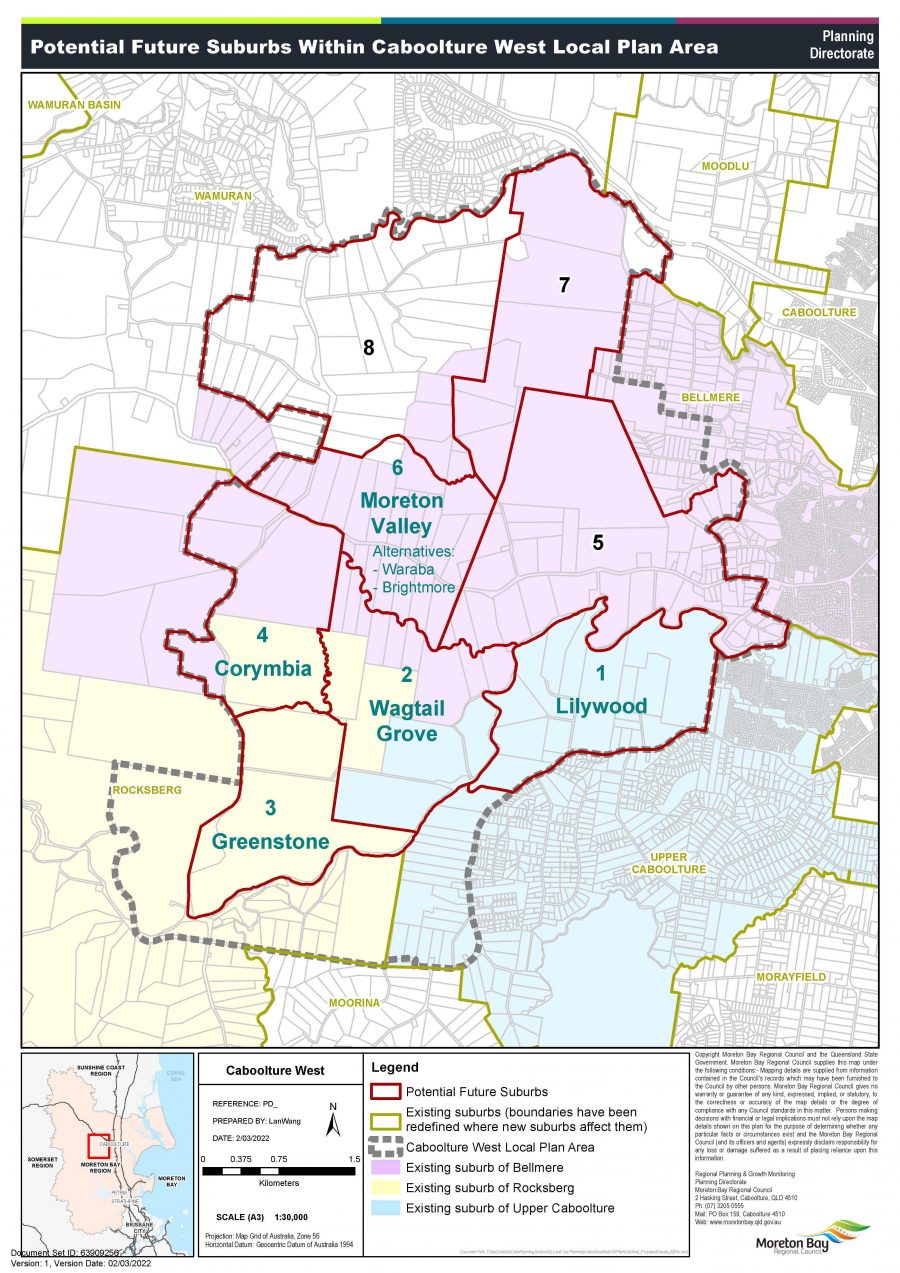 MBRC Planning Scheme – Caboolture West local plan
https://www.moretonbay.qld.gov.au/Services/Building-Development/Planning-Schemes/MBRC/Info-Sheets/Caboolture-West-Local-Plan
MBRC Planning Scheme – Caboolture West local plan
https://www.moretonbay.qld.gov.au/Services/Building-Development/Planning-Schemes/MBRC/Info-Sheets/Caboolture-West-Planning-Process
Caboolture West local plan code
https://consult.moretonbay.qld.gov.au/kse/event/4744/section/s1384469089572#s1384469089572
State Development, Infrastructure, Local Government and Planning
https://www.statedevelopment.qld.gov.au/planning/growth-areas/growth-areas/growth-areas/caboolture-west